We are specialists in developing web and ecommerce projects. Consequently, we know exactly what we have to do to deploy the app in a satisfactory manner.
A web app can be as simple as a single server or its solution may involve infrastructure. We can help you design, hire, deploy and maintain the web solution your project requires, allowing your business to grow in accordance with the online demand it receives. Always in the cheapest, most favourable and secure way possible.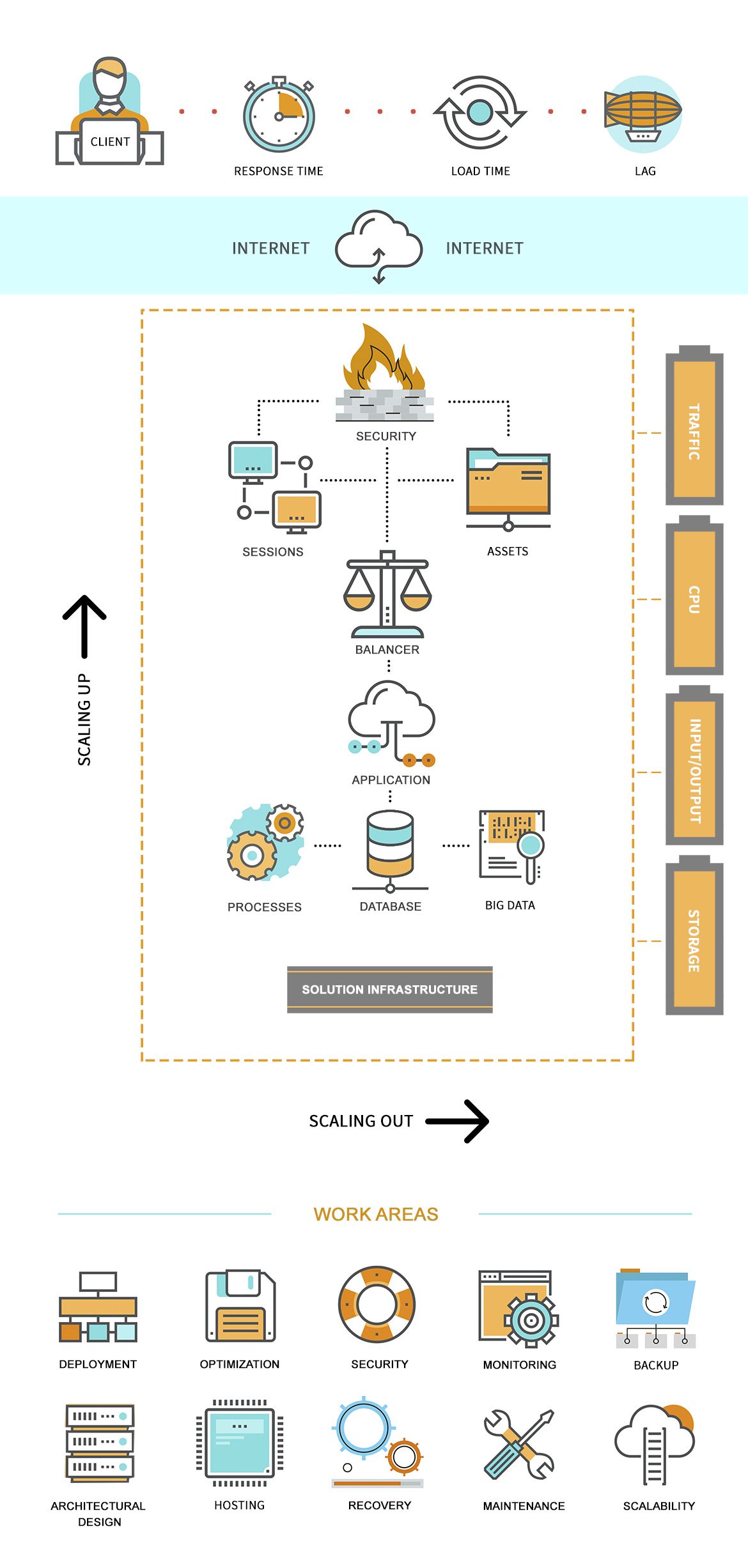 DEPENDING ON YOUR PRESENT
AND FUTURE REQUIREMENTS,
WE WILL HELP YOU FIND THE BEST OPTION
SO YOUR APPLICATION CAN ESCALATE
AS YOUR BUSINESS REQUIRES
We can help you in the following areas:
Advice: support in the design of web app solutions and infrastructures.
App deployment: design and launch of an application so it can easily be updated whenever necessary.
Hosting: web app hosting (Rails/PHP).
Technical issues: setup and deployment of web apps to a host that belongs to the client or 3llideas, or a cloud environment.
Auxiliary services: set up and deployment of auxiliary services (databases, session servers, CDN, NoSQL servers, indexing services, etc.). We will take care of everything you need to run your web solution.
Scalability: design and implementation of web app infrastructures that need to escalate. Solutions with vertical and horizontal scalability.
Optimisation: we optimise servers, infrastructures and applications; as a result we use less resources.
Backup: backup copy of complete web solutions, in accordance with the level of recovery required.
Security: we ensure that the application, system and its environment are secure.
Monitoring: we monitor the status of the applications/servers to detect problems and apply corrective measures.
Maintenance: we carry out server maintenance to ensure they run properly, thus reducing downtime.
With the aim of finding the ideal solution for each client, we offer the following options:
3llideas hosting: we deploy the web solution to the 3llideas host, on which the servers belonging to CosasdeRegalo.com and other clients are currently installed. An advanced and high performance solution.
Amazon AWS hosting: in the event you need it, we can manage the deployment of your apps to the cloud environment provided by Amazon Web Services (AWS). Infinite scalability with a wide range of functionalities and automations.
Hosting on other servers: if necessary we can rely on deploying to other servers. We will recommend the cheapest solutions that adapt to projects with less requirements.